General : Agong's right to summon any political leader - Dr Mahathir
Friday, 11 June 2021 | MYT 1:05 AM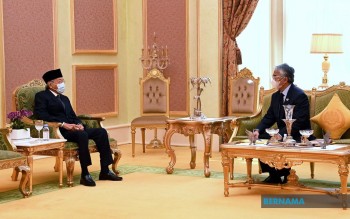 KUALA LUMPUR, June 10 -- The Yang di-Pertuan Agong has the prerogative to call any political leader when needed to get views on the current situation in the country, said former prime minister Tun Dr Mahathir Mohamad.
The pro-tem chairman of Parti Pejuang Tanah Air (Pejuang) said the main leaders of the country's political parties were summoned to appear before Al-Sultan Abdullah Ri'ayatuddin Al-Mustafa Billah Shah to listen and get views from them.
"It is the Agong's right to meet with anyone (and) if he needs to meet with everyone, that is his decision. The reason (to meet face to face) is up to the Agong. I don't know why, maybe (His Majesty) wants to know the position and views of these political leaders," he said in a virtual media conference today. 
Commenting on his 45-minute audience with the Yang di-Pertuan Agong, the Langkawi MP said he proposed
6
966
1
5