WhatsApp Web Version Now Allows You To Create Custom Stickers
Thursday, 25 November 2021 | MYT 9:38 AM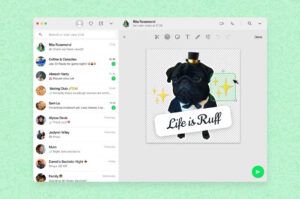 WhatsApp has quietly rolled out a new feature to the web version of its private messaging service. This new tool allows users to create their own custom stickers on the platform itself, without having to use a third party app.
Accessing it is quite simple; in a chat, simply tap on the paperclip icon that is located beside the text bar and select the Sticker option. Alternatively, the same can be done by tapping on the emoticon icon and then selecting the sticker icon which will appear beside it.
From there, clicking on the Create button will prompt you to upload an image which can later be further customised via a built-in editing tool. The tool itself offers a variety of customisation options where you can crop a particular element from the image, as well as add emojis, text and additional stickers on top of it.
Stickers are saved in a square aspect ra
5
5.9k
0
117